Its movie night and just when one is about to play their favourite movie, the computer screen goes Whoosh! It blacks out, becoming totally unresponsive. This is also known as 'The Black Screen of Death', and it can happen due to numerous factors.
Yet, regardless of the reason, one should always take the help of professionals to fix this and get it back to its optimal functionality. These experts do this sort of repair work all the time and requesting them to sort this issue out for you makes a lot of senses.
The Probable Causes of Black Screens:
1. The first culprit for windows screen blackout is due to windows security updates. Many device owners mistakenly install particular security updates and stumble upon this issue. However, there are many who believe that just uninstalling those security updates will bring the screen back to normal.
But it is not always the case, and sometimes the issue is, too complex to understand for a normal person. Expert offering computer repair services in Perth will take a closer look at the issue and try to diagnose it promptly and effectively.
2. Abnormalities in the graphics card driver also lead to issues in the screen's display. The likely cause could be that the adapter's driver is corrupt and requires some updating.
Calling in the experts means one gets a clearer picture of what the issue is. They will check the corrupt driver and also see if there is scope for updating or not. With them handling the unit, one can expect their screen display to return to its usual self.
3. Malware viruses are also considered to cause this black screen occurrence. This happens when one doesn't scan for viruses from their machine routinely. It can also happen if the computer has no anti-virus software installed. Each of these triggers off malware Trojan viruses and eventually causes this display blackout.
Trust-worthy experts will check each of these aspects properly. They will remove any malware software in the system; even scan the machine for potentially dangerous software.
Other than these, if there is some other issue plaguing the screen display, then they will check it out and fix it properly.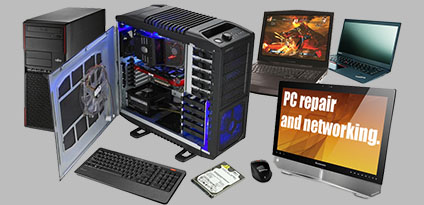 If There Are More Issues Other Than Screen Blacking?
There are numerous times when identifying one issue leads to finding of another. This is more so if the computer is an old model and hasn't been repaired at all.
These professionals inspect the entire machine or other perilous issues, and on finding them, they work on it to remove it for good.
Some common issues include:
Installing special software or checking the system hard drive.
Reloading the office and windows antivirus software.
Restoration and backup of main user files.
Installation of the standard software.
Optimising start-up programs and deleting unnecessary software programs.
Cleaning up the software and checking adware.
Reloading operating systems, resetting browsers and also cleaning the hardware to prevent overheating.
One can expect each of these glitches to be taken care and that too without overspending. So, whether one seeks for quality computer repairing services in Perth or of a different brand, one can trust these experts unhesitatingly.
Author's Bio:
The author has real-time experience in taking his computer to repairs and also knows which agencies present top computer repair services in Perth.