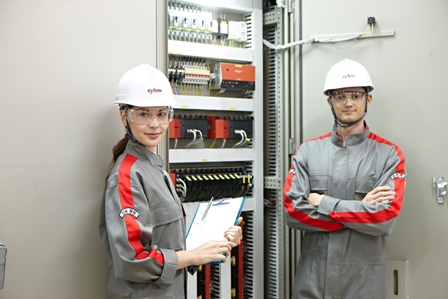 CIMON Co., Ltd., Launched CIMON V4.0, a solution for building Smart Factory.
Seoul, Korea (June 20, 2017) – CIMON Co., Ltd., a leading software and hardware design company that focused on developing solutions for smart factories, announced that it will be launching CIMON V4.0 in August 2017.
CIMON Co. Ltd has prepared itself to meet global standard with future market requirements by launching SCADA V4.0, a representative product of CIMON. This will give CIMON an opportunity to strengthen its place as the market leader in Korea and take the further step toward the global market.
CIMON Co. Ltd builds a Smart Factory with CIMON PLC and SCADA systems which have more than 20 years of accumulated automation technology. The core technology and experience provided by CIMON V4.0 will lead an SI project successfully. SCADA (Supervisory Control and Data Acquisition) is a prevalent industry standard and it is a critical part in initiating industry 4.0. CIMON V4.0 supports systems to be more stable, efficient and reliable.
CIMON PLC (Programmable Logic Controller) is a high-performance industrial control device based on international standards of IEC61131. It is used for large plant sites that require high reliability. CIMON PLC is optimized for industry 4.0 which makes various industrial sites smarter.
CIMON has been widely known for the stability and performance of CIMON PLC and SCADA by users all over the world. The excellence of CIMON PLC and SCADA has been showcased at Smart Factory Expo such as BUTECH 2017 in Busan and Automation World 2017 in Seoul.
CIMON will be showcasing PLC Redundancy System, OPC UA modules with a positioning system and water treatment at Assembly and Automation Technology 2017 exhibition in Bangkok, Thailand.
Based on its core technology in power electronics, CIMON actively develops automation and energy infrastructure products and solutions that are widely adopted by many manufacturing companies. Mr. An Che Bong, The Chairman of CIMON said: "SCADA 4.0 is a designed System Integrator Friendly and it will show key functions of smart factory implementation with its latest functions."
The CIMON SCADA V4.0 features a powerful Historian, which makes it easy to perform various report data operations. The table group function reduces the burden on the upper DBMS programming by allowing a simple DB operation to be processed in the CIMON SCADA. CIMON SCADA allows data analysis and visualization, using charts, bar graphs, and trends.
In addition, CIMON released an Ethernet-based data logger module that has the ability to save some time data in the PLC when the communication with the PLC and SCADA, which is higher software, is lost. When a commercial network is used, communication disruption occurs occasionally. In this case, data logger module can prevent data loss, which is crucial in various industrial fields such as manufacturing sites.
For more information, please contact:
Jae Hoon Ahn
CIMON Co. Ltd
#48, Beolmal-ro, Bundang-gu, Seongnam-si,
Gyeonggi-do, Republic of Korea, 13503.
Tel: +82-2-480-8587-8
Email: global@cimon.com
Website: http://www.cimon.com
Author's Bio:
About CIMON Co. Ltd
CIMON Co., Ltd was founded in 1997 by Mr. An Che Bong. It has expertise in Industrial Automation and Process Control System. CIMON aims to promote smart factories to enhance the competitiveness of manufacturing sites, by helping firms to build smart factories. CIMON's Innovative solution fulfills customers' needs, increases facility efficiency, productivity and reduces costs for customers.