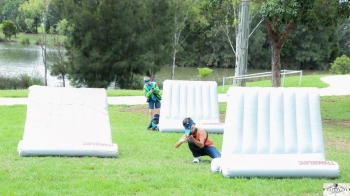 Laser tag games are awesome. With the right gear and with a little imagination; kids can re-create live-action (like in their video games) right in their back yard.
Such tagging games are rich in action-packed entertainment. It is good for your kid's adrenaline, provides the perfect thrill of the chase and the ideal satisfaction when they implement the right strategy. And although laser tag games can be played just about at any time of the day, they bring a whole different kind of excitement when played at night-time.
Here are 3 good reasons why you should encourage your 10-year-old to enjoy a laser-tag game at night.
i. Serves As A Wonderful Bonding Activity:-
Kids nowadays have a busy lifestyle. Considering the number of hours they spend at school and tuitions afterwards, they rarely get time to meet up with friends and enjoy.
By arranging for an evening laser tag game; you are giving your little one scope to get together with their closest friends, set up teams and play hard for victory. As parents; even if you can team up with your little soldier and participate in such fun-games, it will also give you the scope to get a good workout.
So, the bottom line being such custom-made laser-tag games are a wonderful way to bond, laugh and even create memories.
ii. Allows Your Kids To Blow Off Some Steam In A Healthy Way:-
Under the immense stress of completing their course syllabus and procuring a good score in their examinations; it goes without saying that your little one is always under the pump.
Occasionally, they need to vent out their frustrations, stress and anger- and what better way is there than to shoot your enemies- even if it is make-believe!
Laser tag games are all about shooting opponents and coming up triumphant with a proper strategy. They can run around, blast things to their heart's content and feel happy. Not to forget, the amount of physical activity which your little one undergoes, it proves as one health way blow off steam.
iii. Keeps Your Kids Away From Binge-Watching & Allows Them To Stay Mentally & Physically Active:-
Don't take it in the wrong way, but everyone loves a good streaming binge as much as the other person. However; when that becomes a habit, especially in a 10-year-old, it keeps them from having real fun.
Think about it? How many times has your kid chosen to sit back at home willing to watch the next episode of their favourite soap-opera- when initially they wanted to go out and play! If it's a daily chore; then you should encourage them to go out of the house and have some real fun for a change.
Enjoying an after school with laser tag game with close friends will involve running, dodging and being physically and mentally active. And that seems way better than straining your kid's eyes by sitting in front of the desktop screen.
If you wish to give your little kids an out-of-the-box entertainment- be it on a specific weekend or on their upcoming birthday, then speak to a company who offers kids party entertainer packages in Sydney at budgeted rates.
These agencies will provide quality backyard laser tag packages in Sydney with inflatable walls, battle boxes and tagging guns, along with a commander to run the proceedings.
So, speak to such a reputed service provider in the area and make the arrangements. Your kids will love an evening laser tag competition.
Author's Bio:
The author runs a company which specialises in kids party entertainer packages in Sydney at cost-effective rates. From reasonable backyard laser tag packages in Sydney, to pamper party packages to any other; the author offers everything.