With winter finally wrapping up, it's time to head into warmer weather and one of our favorite times of the year – car show season! What's more thrilling than the roar of engines and the sight of dozens of beautiful cars lined up? We can't think of much! This year is sure to be a big season with plenty of car shows!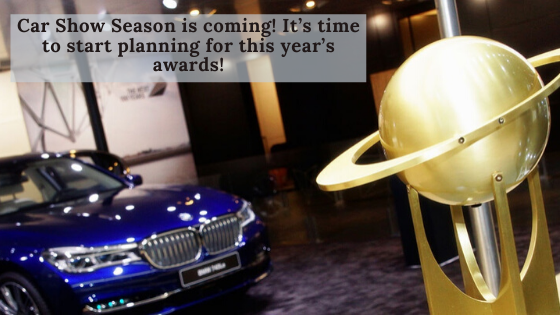 Car show awards are one of the ways you can make your event stand out from the others. Participants love to enter into car shows that are known for their fun and unique awards – it's important to change things up a little every year so your repeat entries don't end up with a shelf full of identical awards. Luckily, there are plenty of options to choose from!
Trophies:
A timeless classic, trophies have been a staple for car show awards for decades. While you can still get old school style trophies, there are also a lot of new, modern additions you can opt for to put a twist on the standard trophy! With a wide range of different figures (cars, trucks, motorcycles, etc) and an array of different colors, it's easy to personalize a trophy to fit your unique event. Add on your color logo or graphics, and trophies can be the best way to make a stunning award for a price that won't hit your wallet too hard!
Plaques:
Another popular style of the award is a plaque! These plaques can have full-color graphics and your logo and information on them. With so much space to add artwork, it's easy to make exciting graphics and different designs from year to year. Many car show participants love to collect each year's award and display them next to one another.
Resins:
A great way to impress your participants and winners is by selecting a resin award. A more modern style of award, resin awards are made of a heavy and durable material that comes in a metallic finish. These resin awards tend to be a 3D rendering of items – a car grill, pistons, spark plugs, steering wheels, tires, and many other automotive themes! Resin awards can be a great, cost-effective option for switching it up from trophies or plaques to keep your awards fun and fresh from year to year! With so many styles, there's plenty to choose from - you can reach out to the best trophies in Indianapolis and have them help you narrow down your choices until you find the perfect fit for your event!
Glass Awards: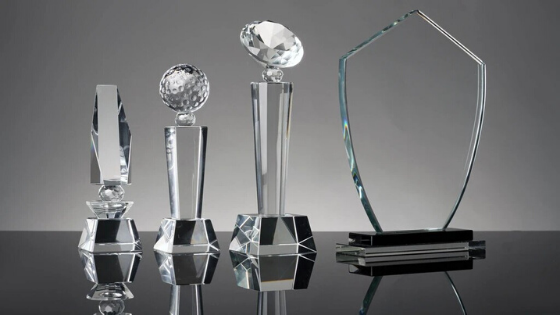 If you really want your event to be the talk of the car show circuit, you can opt to choose a less conventional style of an award like a glass award! There are many inexpensive glass awards that you can use as Top 10 or Top 20 Awards, as well as larger pieces for your Best of Show and specialty classes (Best Paint, Interior, Engine, etc). Choosing a more unique type of award will definitely turn the heads of all your participants!
Whatever option you choose for your car show awards, the most important part of any car show is to have fun and enjoy looking at all the amazing cars entered! Here's to a great year of car shows!
Author's Bio:
Earl .L. Whitton is a profession, He is a Data Analyst. And his passion for writing encourages me to keep writing. I hope you'll love his articles.