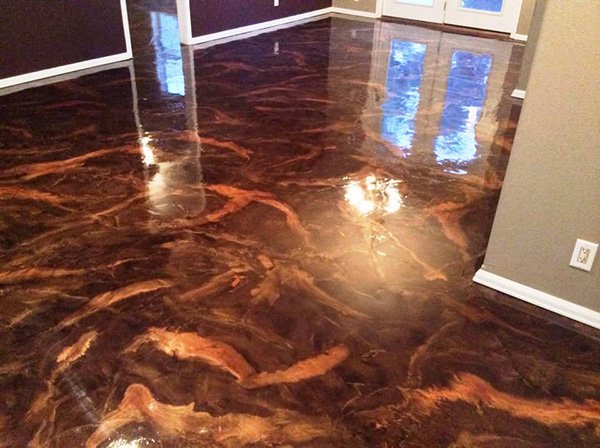 In case you are looking for some safe, cheap and durable flooring options then epoxy flooring comes into the bigger picture. Epoxy floor paint has varied amount of uses that make it a go to choice among a majority of residents. However if you are planning to get epoxy flooring done in your house for the first time then this article is just for you! With epoxy flooring gaining momentum, you need to make sure to know the reasons behind it.
Keep reading in order to know the various pros and cons associated with epoxy floor painting and why it is becoming widely prevalent nowadays:
EASY TO CLEAN AND MAINTAIN: if you are time bound then getting the flooring that is relatively easy to maintain will be your ideal choice. With epoxy flooring you can easily sweep up the debris in a quite efficient and easeful manner! Additionally a little mopping with a wet wipe will be sufficient!
HIGHLY DURABLE: in case you want to protect your floors from all sorts of impact and wear and tear then epoxy flooring will turn up to be your saviour. Epoxy flooring is considered to be a very durable choice of flooring. This material is very sturdy and undoubtedly quite long lasting.
A SAFE FLOORING OPTION: in case you have hard floors then epoxy works really best! It is less abrasive as compared to concrete floors and also is resistant to slips and falls. It can withstand up to 200 degrees of heat and is a very durable option when it comes to fire resistance.
POLISHED AND COLORFUL LOOK: if you want to acquire a colourful and polished look in your house then the choice of epoxy flooring is just mind boggling. It can transform even the dull and boring rooms into a splendid decor.
IT IS MESSY TO INSTALL: if you want to take this epoxy flooring option as a DIY project then you are at a huge loss as it is very messy and complicated in the execution.
IT IS DIFFICULT TO INSTALL: when it comes to the installation of epoxy flooring then you need to take help from professionals to get outstanding results and in a short span of time.
So now that you have gained a fair idea so it is important for you list all your opinions and considerations. You can look forward to hiring the professionals doing epoxy floor paint in Melbourne. Make sure to hire the ones who have been in this business since ages and have an impressive port folio to show you. The experienced ones will have an expertise that no guide can teach. Also it is important for you to go through their testimonials so that you get a fair idea of their services!
Author's Bio:
The author is a pro at residential epoxy flooring in Melbourne. The author also offers the best epoxy floor paint in Melbourne.