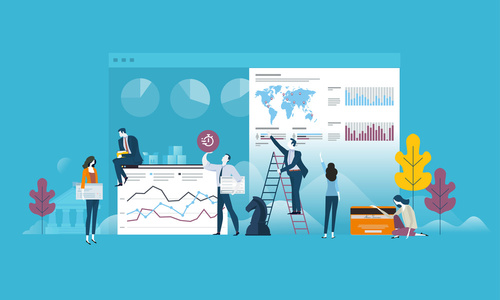 Today 'digital' has become the town's new talk. We tend to hear of digital marketing, digital technologies, digital transformation, and digital media now and then. Everyone is going digital.
But what digital transformation is? Should your business enterprise embrace digital transformation services?
Well, if you are a business owner, then this is an important decision to make. If you are looking for the right information to make a wise decision, you are in the right place. Read on to find out if digital transformation can be a game changer in your business.
What is Digital Transformation?
Digital transformation is the implementation of technology in every domain of your business, fundamentally modifying how you work and render value to your customers. This also implies shifting from the long-standing business methodologies that organizations were developed to adopt relatively new and advanced practices.
Organizations have to evolve to stay in tandem with the changing business environment. The business leaders now want IT to be aimed at innovation, continuous business improvement, and results. You can define digital transformation as the acceleration of the business processes, activities, models, and competencies for completely deploying the opportunities of technologies to enhance productivity and profitability.
3 Reasons Digital Transformation is Essential
Digital technology has already transformed the environment of customer engagement, and marketing. Every organization is now turning into a technology organization. This implies transitioning to a digitally-driven business is not only important to beat the competitors, but it is essential to survive in the competition as well. Here are the top reasons you should prepare for the transition:
• Acceleration of Change
The digital change is taking place at an exceptionally fast pace. This is making it tough for companies to maintain their position in the industry. To retain its leadership in the industry, it is important for a company to stay in tandem with the accelerating digital change.
• Customer Expectations
The expectations of the customers are changing. They want an excellent experience across every touch point. Hence, it is your responsibility to make sure that their interactions stand to be exceptional and seamless.
• Digital Competition
The businesses are now under the ever-increasing pressure of competing digitally. To stay abreast in this tough and fierce competition, your business must be digitally sound.
Advantages of Digital Transformation
Mentioned below are some of the major advantages of digital transformation services:
• Drives data-based insights
One of the biggest advantages of undergoing a digital transformation is gaining the ability to track metrics and analyzing data obtained at the time of digital marketing campaigns. Making use of these insights help the businesses in optimizing their processes and strategies for better and more improved results.
• Increases innovation and agility
Agility is the capability for improving and developing continuously. This, in turn, leaves scope for innovation. With digital transformation services, you can obtain increased agility.
• Consolidates operations and processes
One of the biggest benefits that digital technology has provided businesses is the ease to get connected with the target audience. By going digital, the organizations can bring their whole architecture together. This encompasses social media, project management, and analytics. This consolidation of your company's operations and processes helps your business in connecting with the targeted customers and fulfilling their needs and demands.
The Takeaway
Digital transformation is an unavoidable necessity that every business needs to pay attention to. Digital is the new trend, and this trend is here to stay. The emergence of digital technologies such as Artificial Intelligence (AI), Internet of Things (IoT), and Machine Learning (ML) has made the business landscape much more competitive.
That being said, to survive this competition and be a tough contender, the businesses need to be digitally very strong and powerful. A business that is digital weak is likely to collapse within no time. Now is a time when even employees do not want to work with an organization that is digitally not sound. This is because they have already come to realize the need for digital transformation.
Over 55 percent of the startups are already digitally sound. Among the established companies, more than 89 percent of business enterprises have either adopted digital transformation services already or are planning to do the same in the nearest future. From these statistics, it is very clear that digital transformation is the future of all the businesses that are here for a long-term stay. So are you ready for a digital transformation?
The ultimate objective of Intersoft Data Labs/VServ Business Solutions is customer delight by providing smart solutions, meeting schedule and cost objectives to build reliable and strong partnership with customers. Our employees are completely focused on achieving excellence in every function with meticulous approach to ensure successful delivery of services and solutions to our customers.
Author's Bio:
Rob thomas possesses love and passion towards writing, which brought him into this field. Presently, he is working as a Content Writer at Qualityguestpostweb. During his career, he has written many articles on technology innovations.