Why did the chicken cross the road? Not that it wanted to get to the other side, but because it's fed up with life!
For some of us, life is just a journey filled with constant hardships and distress. In truth, having a stress-free life is almost impossible. We have so many responsibilities at home and at work, which sometimes become too much to handle.
You feel like life's demands are pulling you from all directions. There's so much going on that you start to feel perturbed and downright stressed out! You have persistent financial problems – with so many bills to pay. The thought of losing your job in this economic crisis plagues your mind daily, leading to incredible tension and pressure. Sigh. Is there a way out?
If you have ever had a nine-to-five job, you'd know how frustrating and burdensome things can get. You work your tail off, but you feel like you don't get enough credit. Your boss plays favorites, offends you, gives you impossible deadlines, and dresses you down in front of your colleagues. Worst of all, you're terminally exhausted after work and feel as if you are on the verge of a breakdown. And thanks to your cellphone and laptop, your boss can reach you 24/7. There goes your personal life!
But when the day ends, you can finally unwind and relax in the comfort of your own home. Or not. The kids are home, so you know what that means? Constant playing and screaming from room to room. When will it all go away?
Meet the JellyTank – the ultimate solution to life's stresses and hardships. Imagine coming home from a long and tiring day to a magnificent display of enthralling and mesmerizing jellyfish to calm your mind and relieve your tension.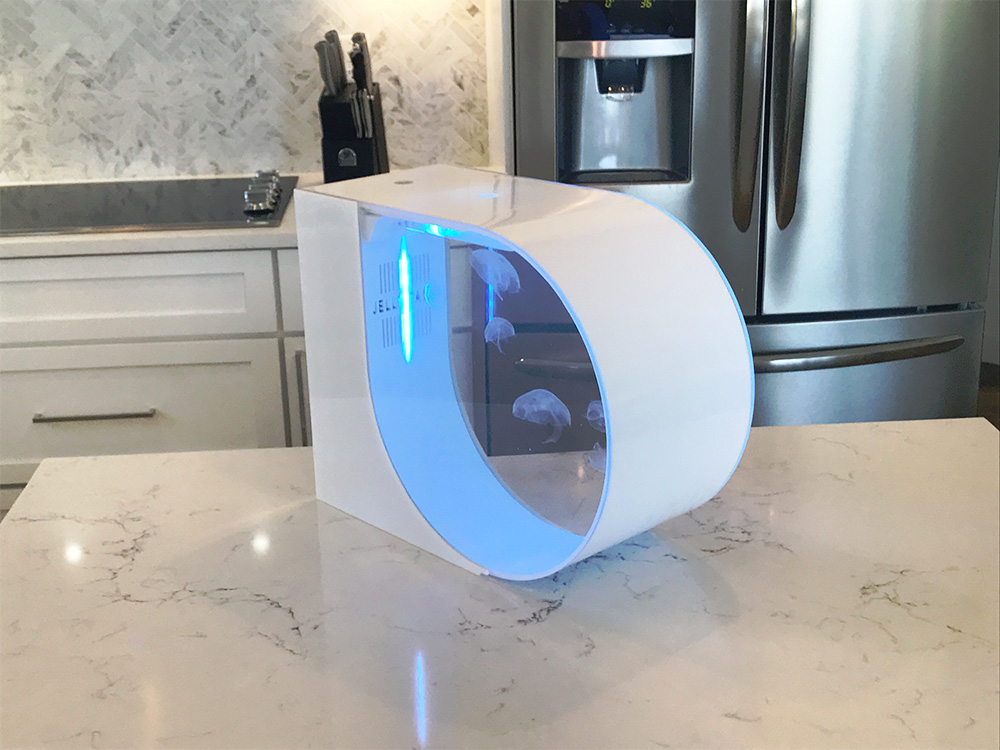 The JellyTank creates a soothing atmosphere of serenity and peacefulness inside your home. Like mini aircrafts in the night's sky, the small blooms of jellyfish dash from one area to the next in vivid and dazzling rainbow-like colors. Your mind, body and soul are finally at peace. All the stresses of life are gone like the wind of yesterday. You are alive.
The JellyTank is a sleek jellyfish tank that solves all the problems other tanks struggle with. For one, it looks magnificent in any environment, light or dark. It is also a highly affordable option in comparison to other jellyfish tanks on the market.
It features a stunning modern design, built on a seamless foundation of functionality and form to give you a jellyfish aquarium like no other! This jellyfish tank allows jellies to thrive in a fascinating aquatic world while requiring a low level of maintenance and being pocket-friendly for owners. Beyond that, its design focuses on providing a free-swimming zone for jellyfish like the ocean's tides and is perfect for keeping them happy and healthy.
A few amazing features of the JellyTank include:
A remote LED so you can switch between different LED colors and brightness to match changes in mood and for easy lighting. Talk about convenience and customization!
A pump-driven True laminar water flow that is similar in operation to the natural environment of the jellyfish.
Made of premium, high-grade aquarium acrylic, available in premium black or ultra-white.
A robust built-in mechanical and biological filtration system that ensures optimal water quality and easy accessibility for maintenance and cleaning.
A proprietary aquarium and flow bar design based on form and function. It is also backed by science with the aid of a nationally accredited aquarium and research laboratory.
In this world of never-ending struggles and hardships, being at peace often seems so farfetched. With the daily stresses of life, there's a thin margin between self-possession and life's constant battles. But thanks to the JellyTank, all hope is not lost. This jaw-dropping device combines cost-effectiveness with an extensive collection of impressive features to bring you a jellyfish aquarium you will never forget.
Author's Bio:
Connor Douglas is a writer who enjoys spreading positive life changing messages. He focuses on both mental and physical health while changing your lifesytle. https://www.springwellwater.com