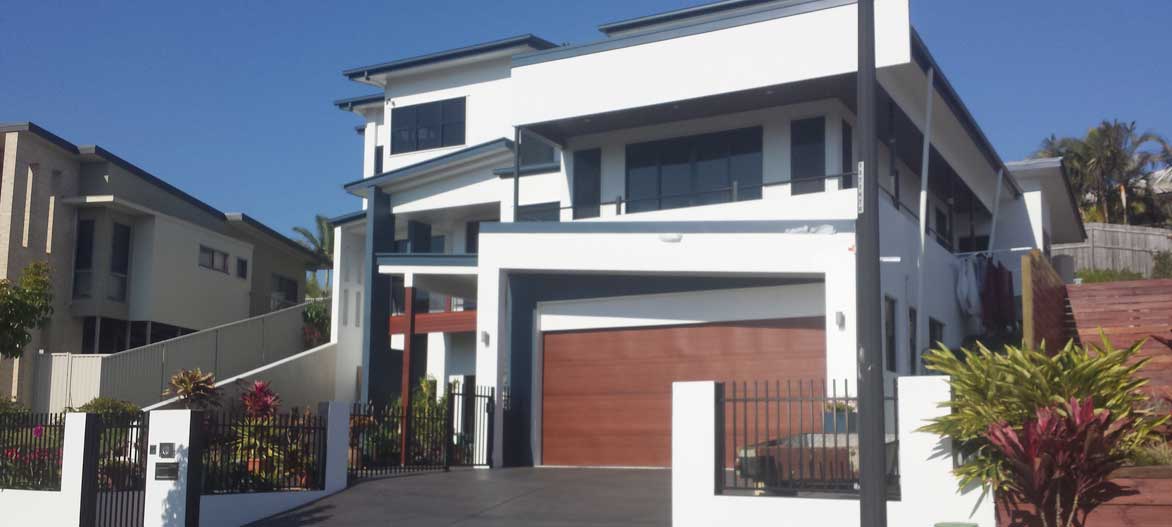 A quality render treatment consists of two prime functions:
To provide proper protection to your property walls from the external elements. A quality render treatment allows the water vapour to move from within the wall to the outside of the surface structure. It also prevents the rain to force it's way inside.
The next purpose of quality renders treatment is decoration and making your home walls aesthetically-pleasing to the eyes. The render finish and vibrant colour also help rectify blemishes present on the surface walls and bring about a smooth, and uniform finish.
However, a lot of this is dependant on the skill and field experience of a rendering expert. For this reason, it is always important to book a competent and accredited applicator to perform the rendering operation to perfection!
To Appropriately Weatherproof Your Home Walls- Quality rendering experts will prepare the surface walls and make it free from any trace of dust, debris, oil and dirt.
Furthermore, if the wall already consists of an existing render coat, then these specialists will remove the old coat using appropriate tools and their expertise.
As the wall surface is stripped of any existing coat and is ready to be re-rendered, they will apply the mix properly in several layers to ensure the coat is effective and long-lasting. It is the final layer of render which will help create the finish you want.
Before Discussing The Right Render Treatment For Your Home; Here's Looking Into Some More Benefits.
Rendering your homes, be it inside or outside allows you to deal with water ingress and penetrating damp issues. Due to the harsh weather exposure, your surface walls will start to form cracks or dull patches with spidery web-cracks, eventually starting a host of following problems in your home. Adding a quality render coat to the surface prevents damp from happening.
Applying a quality coat of render also improves the thermal performance of your home. There have been numerous instances when clients have stated that post a rendering treatment; they had to spend less on external insulation and save lots on their energy bills.
The Right Render Type For Your Home:-
This is the part where you need to sit down and sort out your best option. It is advisable to consult with your home rendering specialist on what's the best render type for your property.
As per customer choice, here are 3 popular rendering options which you can opt for.
Acrylic Render Treatment:- This is perhaps the most popular among all the different types of render treatment that you will find in the industry.
The benefit of opting for an acrylic render finish is that it can also be used on surfaces where cement render doesn't work mainly due to its lack of flexibility. Some examples of such surfaces include EPS foam and Hebel.
Furthermore; you can also consult with your rendering specialist and add your desired colour to achieve a gorgeous finish. However, like most rendering treatments, this too will need a quality sealer to safeguard it from further weather and exterior damage.
(Note:-) You can also use the acrylic mix for your interior rendering operations and achieve similar results like your peripheral walls.
Cement Render Treatment:- This is a traditional render coat which when applied to your property walls shields it against the external elements and keeps it smooth, flawless and impressive.
Like acrylic render treatment; you can add a coloured membrane paint and a quality sealer to ensure your investment gets optimal weather protection.
Silicone Silicate:- It is an expensive option in comparison to the others. But there's no denying the benefits it provides. It can be self-cleaned, is breathable and impressively durable.
Perhaps, the only downside to this is that it can only be installed during Summer- mainly because it requires a milder temperature to dry off.
Set an appointment with a quality rendering company in your area, and discuss with them on which render treatment you go for. They will be happy to help you out.
Author's Bio:
The author by profession is a home rendering specialist having heaps of field knowledge and experience under their collar. Along with performing a wide variety of exterior and interior rendering treatments, the author also educates the readers' various DIY tips and tricks and also the popular rendering/plastering trends in the market, at present!