Wish you had tons of guitar students? Here is the first thing you should do (if you haven't done it already): STOP copying what other guitar teachers in your area are doing. A lot of guitar teachers set themselves up for failure whenever they try to attract new students. They seek answers to the wrong questions, lack a high level of ambition and take small-time actions that will never grow their teaching business to a big level. This makes it very hard to get new students and maintain a full teaching schedule.
Next, you'll have to make sure you ask high quality questions. These kinds of questions make up the foundation that a successful guitar teaching business is built on. This is crucial for attracting serious students, quickly helping them become amazing guitarists and making a great income along the way.
Asking the following high quality questions helps you get tons of guitar students: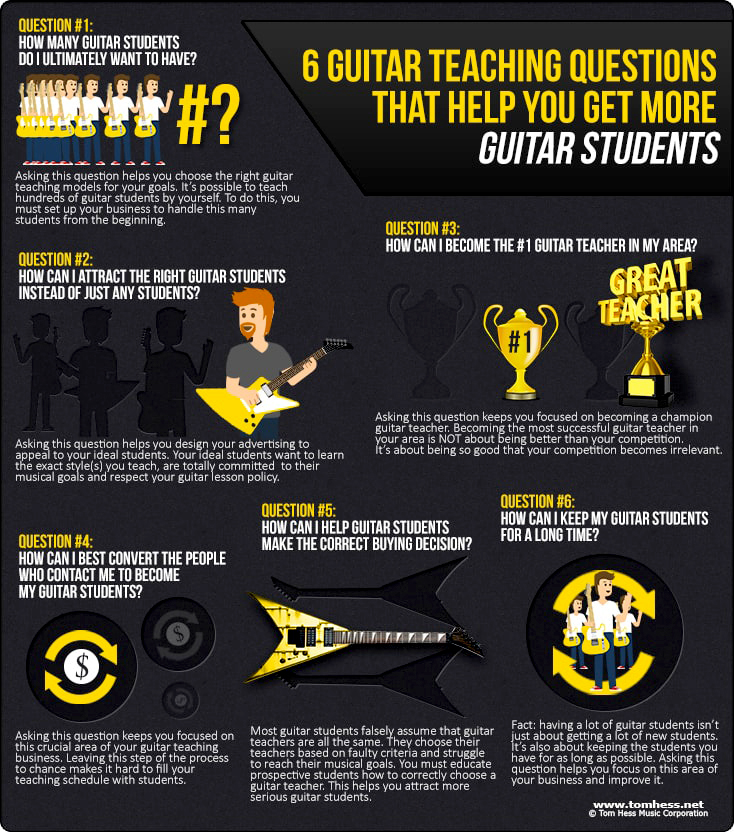 Question #1: How Many Guitar Students Do I Want?
Begin your guitar teaching business by focusing on your end goals. Set a BIG goal that will take years to complete, then work back from it until you've reached where you are now. This is going to be very helpful for you by allowing you to select the right guitar teaching models for teaching many students without getting burned out in the process.
A lot of guitar teachers simply try to figure out how to get the next couple of students. They think with a short term mindset, when they should be planning for the long-term (how many students they want to have in the next few years).
This leads to the following problems:
1. You hold yourself back. Without longer term goals, you will eventually come to a point where your business stops growing.
2. You work much more than is necessary. This happens to ambitious guitar teachers who haven't created a strategy for growing their business.
When you figure out how many guitar students you want, you avoid these problems.
Question #2: How Can I Attract The Best Guitar Students?
Every guitar student isn't the same. The best guitar students are those who:
*Want to play in the specific styles you are teaching in
*Have a lot of motivation
*Respect your teaching policies
*Have money to invest into taking lessons
*Practice what you teach them at home
*Implement the things you teach them
*Take lessons for a long period of time
*Have a lot of loyalty
Guitar students who have these traits become better players fast.
To attract students like this, start learning how they think, what their behavior is like and what they want from a guitar teacher. Next, arrange your advertising (and guitar lessons) so that it appeals to people like this (Guitar teacher training is helpful for this).
The way you advertise your guitar teaching business and enforce your teaching policy determines the kind of students you attract.
Question #3: How Can I Become The Best Guitar Teacher Around?
Becoming the go-to guitar teacher in your local area doesn't mean beating your competition. Instead, becoming the best means becoming so good that your competitors don't even matter.
Reality: The majority of guitar teachers are not very good at what they do.
The majority of guitar teachers:
*Have never received training to become a better guitar teacher.
*Think they only need to teach guitar.
*Aren't dedicated to getting results for their students.
*Use common, ineffective teaching formats.
*Treat teaching guitar just like any regular job. They do only enough to barely keep their students.
When you improve in any one of these areas, you will make yourself an above average teacher. However, doing this doesn't make you the #1 guitar teacher in town. Being truly great requires a desire to be excellent in all facets of your guitar teaching business. THIS is how you become the only option for guitar lessons in your city.
Question #4: How Can I Better Convert The People Who Contact Me Into Paying Guitar Students?
People who call you on the phone to inquire about guitar lessons are merely potential students. Once you have changed a potential student into an actual paying student, you have converted them. To get good at conversion, you need to use an effective strategy. Until you develop a solid strategy for this, you'll struggle to get tons of new guitar students.
This free resource for guitar teaching helps you get more students to take lessons with you.
Question #5: How Can I Help Guitar Students Make The Right Buying Decision?
Guitar students often think that all guitar teachers are the same. This is why they generally ask the same two questions:
1. How much do guitar lessons cost?
2. Where is your studio located?
Operating with this criteria, guitar students will only seek out the cheapest lessons. To make matters worse, guitar teachers often believe that having a low price really matters for their students. Totally wrong!
If you want to get tons of guitar students, you need prospects to choose you for their teacher based off of the right criteria. You need to show them the following:
*Guitar lessons are not all the same. Some guitar teachers are much better than others.
*The cost of the lesson is not how a teacher should be judged. All that really matters is how much it costs to attain the results you are seeking. Make sure potential students understand how much it will cost them based on time and money.
*You are the best guitar teacher to get them the results they seek for the smallest total cost.
Note: Of course you need to be honest here. If you do not have confidence in your teaching skills, locate a guitar teacher trainer who can help you become extremely effective.
Question #6: How Can I Keep My Guitar Students For Long Periods Of Time?
Reality: you need to do more than just get new guitar students in order to fill up your teaching schedule. You also have to keep your students for years at a time. When you are able to do this, you can:
*Help them become excellent guitarists fast and deepen their musical lives.
*Earn more money through each student.
*Get a lot more students in less time. This is less difficult for you because you don't have to try to constantly replace students.
Make it a priority to keep all your students as long as possible. This has a significant effect on the relationship between you and your currents students as well as you and your prospective students. You will have much more motivation to make lessons extremely valuable for your students. You also need to make it a point to pre-educate students on the value of taking lessons for long periods of time. This will make them better guitarists in less time and earn you more money/grow your business faster.
What you need to do right now:
Ask yourself all the questions discussed above to spot any mistakes in your guitar teaching business strategy. Put together a plan of action and improve your approaches for attracting new guitar students. Implement this plan immediately and build your teaching business fast.
This free resource for guitar teaching helps you gain a lot more new guitar students.