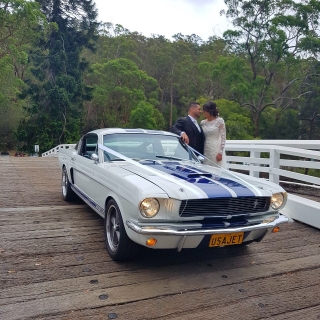 Whenever you talk about iconic weddings and epic entrances- nothing meets your needs as well as a vintage 67' Mustang model. A name which is self-synonymous of impressive horsepower; wedding couples will experience first-hand its power and performance as they make their grand entrance to their wedding venue.
This brings forth to the million-dollar question:- " Would you like an iconic Mustang to be your Wedding Car?" If so, then here are 3 reasons why the 1967 Mustang model is an ideal pick for your wedding episode!
Reason 1:- "Engine Specs."
Rated as one of the popular muscle wedding cars, this classic 67 Mustang model comes with a powerful V8 engine with a dual exhaust set-up. Its transmission comes in the form of 4-speed manual transmission and 3-speed auto transmission. The engine also consists of a compression ratio of 10:1.
Its classic engine will churn out a powerful drive performance, and it's signature roar will be enough to draw attention and compel everyone to take notice on your immediate entry.
Reason 2:- "Interior Specs."
Quality vinyl upholstery and nylon rayon carpets existing on the floor contour will come as standard. With that; couples will also get twin front bucket sculptured seats and foam padding for optimum travelling comfort.
But the 67 Mustang is much more comfortable seats and quality upholstery. It includes many other specs for your travelling needs.
Turn indicators, Positive door locks, brake lines impervious to corrosion, frontal seat shoulder harness doors, and uniform shirt quadrants with auto transmission- all come as regular inclusions.
Reason 3:- "Dimension Specs."
With a large wheelbase, special rear panel and aerodynamics body styling, the 1967 Mustang or Muzzy 67 (as some fans love to call it) scores a perfect score as your wedding-wheels. It also comes with a larger wheelbase of 108-inches, 51.8-inches, width-70.9-inches, length of 183.6 inches and weight of 2,980lbs.
Its interior also appears to be spacious and has a premium look and feel. And its cool custom features inside the vehicle cabin helps make your ride lavish and pleasurable as possible. In short, they have everything needed to turn heads and make everyone present stand and take notice!
Finding The Right Wedding Car Hire Company:-
Mustangs resemble the ultimate muscle car with sports dynamics. Powerful, smooth and responsive, they present a great sense of pride to whoever rides it.
Staying true to this, if you want the 67 Mustang for your big day, get in touch with notable Mustang car hire companies in Sydney who have been in the industry for years and have lots of positive reviews from their clients served.
They will provide you with impressive classic wedding car hire packages in Sydney best-suited to your budget and needs, including the model in discussion! And with their packages, they will even offer you complimentary package inclusions like- red carpet welcoming, uniform chauffeur drivers, white ribbons and light refreshments for the bride and groom.
Perhaps the only thing that more exhilarating than booking a Mustang for your wedding is arriving in a vintage Mustang to the venue and leaving in it happily married with the love of your life. So, get your ride sorted today.
Author's Bio:
The author specialises in all sorts of Classic Wedding Car Hire in Sydney for years. With that, the author also provides a wide range of Mustang Car Hire in Sydney to those wanting to make their weddings memorable