Have you ever wondered how best to teach your children about love, forgiveness, faith, hope, intuition, or peace? What about attraction, appreciation and power? Or have you tried to discuss the Source, the Journey, and the Universal Mind? And what about visualizations and affirmations? These are not the easiest topics to tackle, even for adults. This is why the Bringing Joy series of picture books are so powerful.
Written during a time of incredible hardship when I was forcibly separated from my young children for almost four years, these books helped keep our relationship close and empowered our family to not only manage but also thrive. My daughters were only 6 and 8 when I was arrested and held incarcerated on another continent while fighting a legal nightmare. We were able to talk on the phone and write letters but for 3 years and 10 months, I didn't see my young girls.
As I immersed myself in reading anything and everything I could get my hands on to survive the bleak, dark environment I had been suddenly thrown into, I found ways to be strong and to change the way I looked at my situation. All the things that were helping me to overcome my situation, I was able to share with my children in a way that they learned and grew as I did…even though we were 5500 miles apart.
I spent hours writing and drawing these short stories for my daughters and then Sergio (my wonderful second husband who took care of my children and stayed by my side this whole time) would sit down and read them to the girls when they received them. The books inspired and gave them all tools to cope with our difficult circumstances. In the end of this unbelievable journey, exactly what I had visualized for 1352 days came to pass: my charges were dropped and I was free to return home to my family. Joy helped keep our family close and staying positive. Each book represents a step in understanding our journey called life.
In light of the upcoming holidays where spreading Joy is a high priority with all the celebrations, it is the perfect time to share the Bringing Joy series with your loved ones. During the time I was separated from my family, 27 different Joy stories came to me! We now have 12 of them available as ebooks on our site. These are easy to download and have on your computer, your smart phones, Ipads, Iphones, etc. They are a gift that will keep on giving for years to come!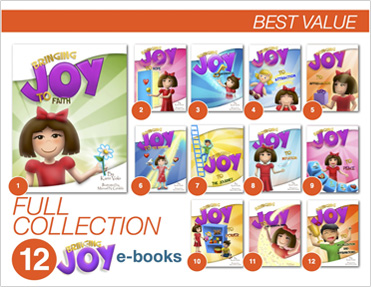 These stories are great to share with each other as they open up a dialogue with your family and help you to discover ways to thrive in life. They will empower you, your kids, and those you share them with for a long time. It is my hope, my purpose now, to share these books with the world, to help bring joy into the lives of others. We have the ebooks available for immediate downloading on our site, www.BringingJoyToTheWorld.com/joy-books/ and we've put together a special bundle package where you can get all 12 ebooks together for additional savings. For less than the cost of taking your family out to a dinner, you can get all 12 ebooks and enjoy the Bringing Joy series for years to come.
From my family to yours… we are wishing you all the best during the holiday season!
Author's Bio:
Karin Volo, an expert in personal development, is known as a Dream Life Mentor and Evolution Expert. She is also the transformational author of the Bringing Joy series, and one of the authors of the best-selling books, Turning Points and Change One Belief. She is also the founder of the Joy Movement, helping to spread joy in the world and the co-founder of Evoloshen, helping to change the way we do business. She has helped many individuals and companies go through transitions successfully and to find the joy in living.
To receive her bi-monthly newsletter, Inspiring Lives, full of inspiring stories and resources and to sign up for a FREE video series, 7 Tips for Improving Your Life Now, subscribe today at www.InspiringYourVeryBest.com and get a FREE Bringing Joy ebook at www.BringingJoyToTheWorld.com .