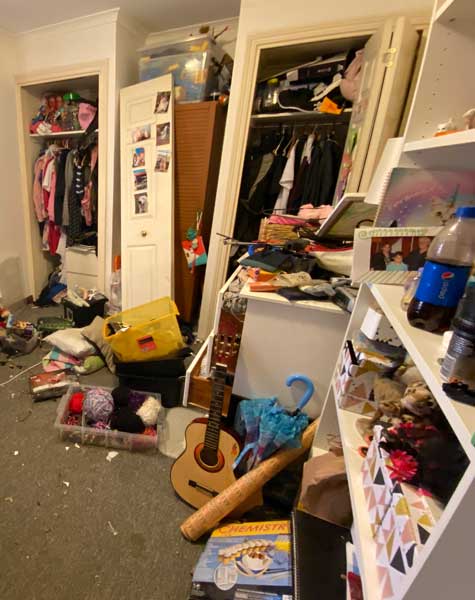 If you kids that are come in the age range 3 to 10, then no matter how well you keep their rooms, they are sure to make it messy the moment they enter. This is a common problem in many households and not at all surprising to have a messy room with kids around. These kids are over active and more over 1 out of every 10 kid is still able to keep his or her things in place but the rest just play around with them.
Kids lack a sense of responsibility, are super active and an expert in cluttering the entire house in seconds! Well you cannot do much about them but with the help of a kids' bedroom organiser you can ease your mundane task of setting their room. This article offers simple ideas as to how you can keep your kids' bedroom clean and organised.
Under bed storage is an excellent way to store their belongings. This space must never be wasted and can be easily used for the countless toys. Toys are the main cluttering agents, so you can keep a huge basket underneath the bed and store the toys in it once your toddler goes to sleep. Else if space permits then you can construct pull out drawers and compartmentalize it according to the commodity you need to store. Bed frames always have an inbuilt storage that must be put to use.
Next you may categorize and use labeled containers for storage. Say there are many varieties of toys, small toy cars often get misplaced so it is best to assign a dedicated place for them. Nowadays you get a lot of storage baskets that come in various sizes. Assign each basket for the small toys, big ones, crayons and work books. The labeled containers help in proper segregation and avoid mixing of the items. They help in neat storage and ensure that there is always place to accommodate more toys!
Children are very fond of stuffed toys. You can have a separate shelf for these stuffed toys. These stuffed toys are heavy and bulky and if stored in the under bed storage, may tend to get damaged. So it is best to have wall shelves to keep them on display! This way you will have an added element to decorate your kids' bedroom.
Have you heard of a hanging shoe organiser? This will come quite handy and serve as a savior to organize Barbie dolls and other action figures that your kids' love. The ideal spot to hang this organizer is near the bedroom door. These come in trendy designs and patterns and will also help to decorate the room!
It is a homemaker responsibility to ensure that every nook and corner of her home is clean and tidy. Regardless of how much you scold your kids' they are bound to make the mess again. With the aid of kids' bedroom organiser from Melbourne you can effectively organize the rooms and keep it in maintained state for times to come.
Author's Bio:
The author loves to write on home organization. Here the author guides the readers to effectively organize the kids' room.