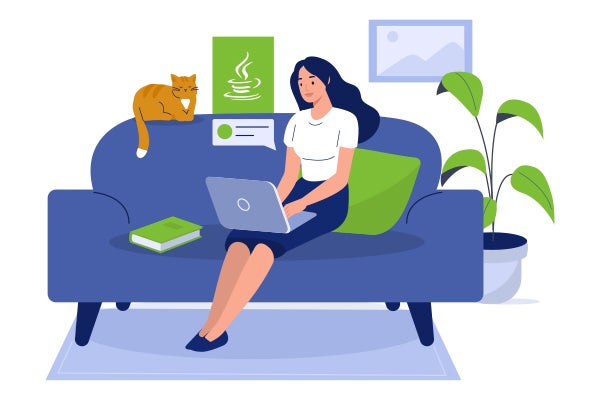 The waves of challenges evolved every corner of the earth, bracing the world for a sharp change. Though things were steadily going back to normal but the reality of remote recruiting sinking in is compelling us all to embrace and adapt to the remote working culture.
Considering the disturbing aftermath of the pandemic, we have sprung up with ways to embrace virtual onboarding and working culture for now and beyond.
From addressing team engagement hurdles of a virtual working network to picking the aspects going in your favor, here's an in-depth overview of remote working culture.
Not to mention, both employers and job-seekers can benefit from this post and shape a more targeted job criterion.
So, let's embrace the most unexpected year of the decade that has escalated employee safety concerns, engagement issues, and a lot more.
Before we get into the nitty-gritty of embracing the remote recruiting culture, here's a crosscut for the ones on a quest for robust virtual assistance to ease everyday work responsibilities. Click here to stay focused without losing sight of your actual aim.
Visualize the worst-case scenario beforehand
What keeps the HR professionals going even amidst the pandemic is their strategic and advanced planning. Embracing and adapting to the new normal and remote working attributes wasn't easy for either of us. However, effective work-from-home policies, constantly collaborating, and planning for unpredictable times is the key to get the system working. Today, what the corporate sector calls for more than anything is 'people with efficiently working systems' ensuring availability from anywhere at any time.
Aside from that, to encourage healthy remote working culture businesses strongly require a finely working business continuity plan that gets the work done, offering a holistic experience to virtual teams.
A truly flexible and functional remote work policy
Though remote recruiting and wfh (work from home) pattens aren't fully normalized yet. However, to ensure high employee morale and engagement when going remotely, listing logistical changes in a brand-new policy never makes a great impact. What plays that part is your remote work culture because that culture calls for that willing partaking. That's why accentuating this fresh company culture should be one and only of your priorities for now.
If you're still new to a remote fashion and haven't worked in one previously and find it hard to visualize and execute, you could easily get along by asking questions like these:
What elements contribute to a robust team culture in today's "remote world"?
Is it flexibility in the work schedule or work-life balance? Is it letting all the team members own their workload and act independently?
Fill in the communication gaps
In a virtual operating team, it's natural to have people from different places and time zones, which means that you've got a few hours in the whole day to coordinate and collaborate with your colleague or manager.
How can you as a brand fill this communication gap and work towards building an effective remote culture?
Firstly, reinforce asynchronous communication skills in your teams.
Accentuating asynchronous communication greatly enables everyone to work according to their workload and accessibility.
When employees get a colleague's request, they can process it as per their convenience. However, for deadline-sensitive work, a different strategy could be employed.
Besides, teams tend to communicate a lot via written texts in a remote culture. Thus, if you need a response on a project you can provide full notes to your teammates and inform them about all the steps you've been through.
Pro tip: recent studies shows that such communication lays a positive impact on both the productivity and performance of the employees. Therefore, by taking your remote work values in that direction, both you and your team can benefit in the long term.
Integrate the right and effective communication tools
Who knew that remote working would be the future of tech and would become a super imperative attribute to qualify in the working world?
Since now the remote work culture is slowly and steadily sinking in the corporate sector, it's becoming important to use and select the right communication tools.
Not to forget, these days remote-friendly is the most in-demand work skill and to adapt well to it the right selection of communication tools is a must.
Considering the monumental increase of remote jobs and workers, the demand for appropriate communication tools have risen intensely.
If you're running and managing a remote team and wish to keep a check on the working schedule of your peers, Slack has to be the best communication tool
Though initially introduced as a communication tool for chat-based communication, Slack has advanced with new audio and video calling features as well. This makes it simple to switch to conference calling for having routine scrums or to mentor new team members.
Remake your recruitment strategy
Unlike in-person interviews, remote recruitment calls for a slight change in both the hiring policy and the culture.
Wondering what remote recruiting might look like? Well, it's nothing but a fully remote culture that follows the exact same steps of onboarding as it would in a common onboarding process but virtually.
For instance, now when the IT manager will not be around to assist new team members set up technical stuff, form a simple step-by-step process to let new members prepare their tech gear sufficiently. What's better is to provide them guidelines while being available for queries and questions. Besides, always ensure to add up a troubleshooting section as well.
Besides, to streamline the HR paperwork, look for an HRIS that is conforming well to your company culture.
Today, more than anything else, companies and employers need to understand the exact ways to be more prompt and agile regarding the new remote work culture. Also, companies should adopt a growth mindset that keeps them from being at a stagnant point.
Having learning and developing a narrative to rely on acts as a morale booster for employees. Ensure your peers that they can always ping you when things in the workplace aren't stable.
Author's Bio:
George is fanatical about writing and reading. He has a command in various niche but he loves to write about business. In his spare time, George likes to read, travel, and explore new places.