The wedding dress you choose may make you the talk of the ceremony, or it may prove to be a real damper. It all depends upon your choice. Brides tend to go a bit too overboard while choosing their wedding dresses. And this leads to a disaster! Hence, when it comes to choosing bridal couture, one has to keep in mind the following points.
Going for too white a dress!
Well, going for too white a shade can be a real showstopper, but only you can perfect it. Otherwise, it will do just the opposite. Indeed, bright and optic white can be a real tough shade to pull off! You need to bank on quite a few minute details to make the dress look unique. However, many of those details may lose out midway through the ceremony, and in photos, making the effect look more graphic as well as harsh, rather than pliable and romantic.
Therefore, it is always better and wiser to look for a softer variety of white, like the shade of ivory or cream, rather than going for a startling, purer avatar. As per modern bridal couture for Melbourne wedding, there is nothing wrong in incorporating colour into the wedding dress, all over or merely as a hint of an accent.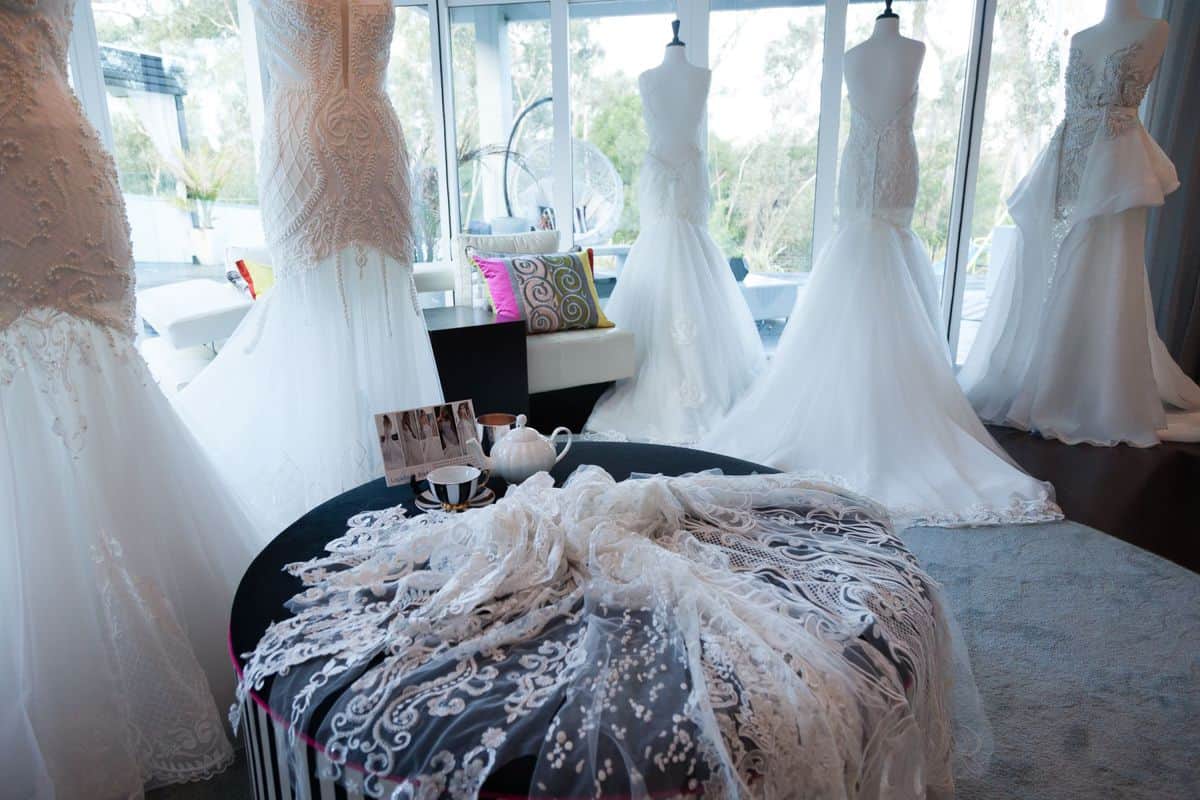 Not paying too much heed to quality – thinking it's only an 'event-attire'
Wedding dresses, more so the ball-gown ones need quite a bit of fabric and that of better quality, such as handmade lace and silk – and that will drill a hole in the coffer - a modest one, if not deep. That is why many would prefer the mass-market variety, made up of cheap synthetics such as polyesters that keeps the expenses under a check. This is a mistake, is not anything else.
Opting for a glittering one!!!!
It will drive people crazy – for all the wrong reasons. People will be blinded, and that will not help either!
This is a mistake, for very often these expensive, shiny couture wedding dresses would appear like they are made from sateen bed sheets, which is not a very good sight. Hence, choosing matte fabrics is always a much better choice.
Opting for a Bold Halloween Costume
Some would want to go for a revealing variety, and it is not a bad idea though! However, while doing so, people forget the issue of visible corsetry, and the lace-up backs and fronts. Too much of cleavage show can make an otherwise sophisticated wedding dress look, least hot!
Hence, rather than opting for a couture wedding dress in Melbourne that is rich in illusion panelling, high slit, plunging neckline and details inspired by the proven lingerie laws, it is better to put more emphasis on just one of them – or at the most, two! Trying too many things out may defeat the very purpose!
That takes us to the next point…
Trying out too many things at the same time…
Does the wedding dress come with ruffles and bows, beading and those three-dimensional laces, or with a bunch of gathered skirts held together in a place by those colossal rhinestone clips? That's too many things at a time to go along - a strict NO-NO! That will underline one little statement – inability to make up the mind – surely not a good advertisement for the best wedding dress.
Keeping things straight and simple is the best way forward. Putting emphasis on one principal decorative statement across the entire dress and letting parts of it go unadorned will make things more balanced!
Author's Bio:
The author is one of the most reputed makers of the couture wedding dress in Melbourne. The author writes blogs on Melbourne bridal couture as well, and is followed by many!