Renowned for its idyllic beaches that come lined with swaying coconut groves and white sand, as well as a perfect orange backdrop from the sunset, the island of Phuket is one of the top destination choices for beach lovers arriving in Thailand. As the largest and most popular of all Thai islands, it is easy to see why Phuket is the number one choice for many vacationers arriving in Thailand for the very first time.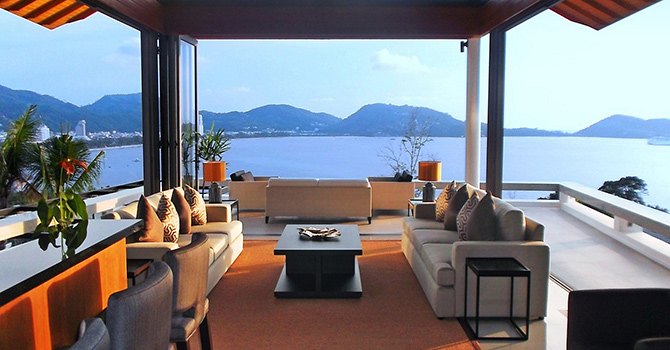 In Phuket, lazy afternoons can be spent exploring the amazing sights and sounds that the island has to offer or if you prefer to stay in, the beautiful inland vistas offered by the wide selection of luxury villas is always a great choice. Whether you are traveling with a group of friends, or your family, here are Phuket's most luxurious villas for you to enjoy:
Villa Enjoy
There is nothing as important as making a great first impression, and this 5-bedroom villa located in Patong does just that with its sprawling open plan layout that offers sweeping views of perfectly manicured lawns. A majestic modern villa that comes with its own amenities that consist of an outdoor lounging area, a bar, two lawned terraces, a seating sala, and a pool, there are lots of fun surprises awaiting you at Villa Enjoy.
Villa Fah Sai
Villa Fah Sai has earned a reputation for itself for being one of the most luxurious Phuket villas, and the folks at the New York Times agree. Featured as one of the "Great Homes of the World" by the popular establishment, your holiday cannot get any more luxurious than Villa Fah Sai. Outfitted with an alluring 18-meter infinity pool, as well as a game room that comes stocked with a flat-screen TV and Xbox 360, this villa also has the seclusion and privacy needed to enjoy your Thai holiday in peace.
Villa Buffalo Moon
This Luxury 4-bedroom lakeside Villa is situated minutes away from the gorgeous Surin Beach. The breathtaking views of the area will offer the perfect backdrop for a luxurious dream vacation. Fully equipped with a private pool enclosed by lush greenery and comfy loungers, this expansive villa also has an outdoor Thai-style Sala perfect for entertaining or relaxing. A truly one of a kind hideaway, Villa Buffalo Moon has a perfect blend of tropical and Thai design that helps to give this villa an unforgettable aura, both indoors and outdoors.
Author's Bio:
Hi,
This is Arifur Rahman. Who is a professional SEO Specialist & Blogger. He has been working in this sector since 2015. He loves to share his stories, tips, tricks and teach online readers.