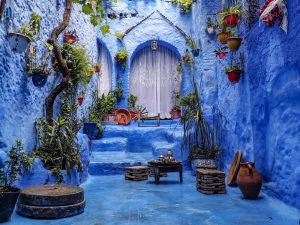 One of the issues that I did not know how it was going to be in Morocco was the transport inside and between cities, because on the Internet I could not find detailed information about it and in my ignorance, I assumed that being a North African country, the transport system was going to be precarious, but it turns out that they even have trains very European style, so you can move around without problems as I will tell you below.
Getting Around The Cities :
For transport within the cities in Morocco, you will find several options depending on the city, from buses, trams, buses, buses (combis), motorbikes, even donkeys, all of these safe for foreigners, but among all, the most favorable option, the one that most people use and that is quite economical (if you know how to negotiate) is the taxi (or petit taxi), You will find this type of taxi everywhere and you just have to raise your hand to ask for it. This means of transport is usually shared with other people that the driver picks up on the way and in big cities it sometimes has fixed routes so you will have to ask if it goes where you are going before boarding it; Many people end up paying 4 times what a ride is worth because they were not aware of the price or did not negotiate but in general, you should not pay more than 10 dirhams for a ride, a little more if you are traveling alone and there are no other passengers, always fix the fare beforehand with the driver. Morocco is a wide country, you can visit many places, and the incient side is the desert. Therefore, you can take the bus or a taxi to get there, also you can hire a travel agency for Morocco desert tours from Fes, Marrakech, Casablanca or any other city you are at.
To and from airports, fares can vary a little, but generally you shouldn't pay more than 100 dirhams for a bus or taxi ride.
Getting Between Cities on Local Buses :
The local buses for getting from city to city in Morocco are very similar to those found in Latin America and so is the way they work, where multiple companies offer the same journey at different prices and you can simply go straight to the bus station and buy a ticket on the next bus to your destination.
The vast majority of cities and towns are connected by this means of transport so you will have no problem getting from one place to another, although the distances are sometimes quite long and you will have to travel 5 to 8 hours to get from Tangér to Chefchaouen, from Chefchaouen to Fes or from Fes to Casablanca; for the longest journeys there are even night buses. The cost of a ticket depends on the type of bus and the length of the journey, but to give you an idea, a 5-hour journey can cost between 50 and 100 dirhams, which is not very expensive, although from Marrakech to some tourist sites such as Essaouira or Quazazarte this price can go up.
One thing they don't tell you anywhere is that there are some buses on which you have to pay 10 dirhams for each piece of luggage you carry.
Traveling Between Cities By Train:
A train is an excellent option for getting around the country, especially if you're traveling long distances and between major cities. I was really surprised with the state of these trains as I imagined them as the ones in India but in reality, they are more similar to the ones you find in Europe, but the price difference is abysmal as for an average journey like the one from Casablanca to Marrakech, which takes 4 hours, the price is 95 dirhams (9 Euros) and for night journeys like the one from Marrakech to Fes or vice versa the cost is no more than 180 dirhams (18 Euros).
The big difference between these trains and the European ones is that they allow standing passengers so you don't need to reserve your seat and you can simply arrive at the train station and buy your ticket directly there, where they even have automatic machines for this purpose, which will save you time. check out the routes for your Morocco desert tours
Author's Bio:
I am an author at selfgrowth