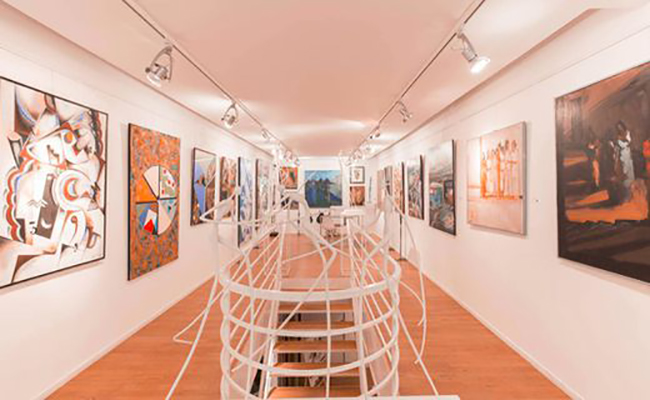 LA GALERIE SONIA MONTI would like to represent you for the December 2020 session. One of our clients has noticed your work, which is why we come to you today for a collaboration. Following the current events, we offer you a collaboration without an appointment in advance. We offer you a one-year contract of non-exclusivity, the percentage on sale is 50%. We work in stages: there will be two months of communication with the media, art platforms, a portrait of the artist and his works will be published in an art magazine, we will do everything in your possession to promote your image before your exhibition. Then after these two months of communication, the pure exhibition with your 4 works will follow. Wherever a work is sold, we will have to send another one, the number of works in the gallery must always be four. A few months later we will go to the first market which is the market of companies (new collectors). Companies are now interested in buying works by emerging artists, on the one hand for tax relief and on the other hand to do as their ancestors are, that is, follow an artist and raise his score gradually.
And finally, we'll go to the second market for supply and demand, the art market. The contract is renewed automatically after the contract. We take charge of transportation when a sale takes place regardless of country, packaging and insurance. We also take charge of the journalist who will interview you, the expert at the end of the third sale in order to plan a coast, the media, and publications on magazines and also of course platforms like Artsper, Artsy...
For your part, you are responsible for quality photos to be sent to us. You will also need to subscribe to the ArtNow platform. ArtNow is a platform specialized in the tax-free business and for collectors, which is compulsory so that they can choose and market their works they wish to acquire. It is also a gateway to the art market, a necessary step to access trade fairs and trade fairs. You will only be able to take this subscription after the Gallery has sponsored it, which is about one month after the contract has been signed. This is the time it takes for the platform to accept your works on their site. The Gallery cannot take this subscription at its expense, the Art Now Dertax website accepts only the artists sponsored.
I join you the contract that you have to initialize and sign and send us back. Once the contract is received, you will be contacted by the journalist for the interview. All the steps that the Gallery will take will be sent to you by email with links. Please send us at the same time as the contract a selection of 10 photos of works (with dimensions) by WeTransfer so that we can choose the four works to be sent to us first for the exhibition, the others will be presented on the platforms, when sale occurs on a work that is not in gallery, our carrier will take care of the pick-up in order to make the journey with the customer ( at our expense ).
Unlike commercial photographed reproductions of pastel, watercolor, and oil paintings printed in Giclée, which are printed in mass by the hundreds or even thousands, the Digital Giclée Printed Paintings created by Curtis R Doll Jr are truly Limited Editions of 75 plus 5 Artist Proofs. They are Digital Paintings created on his computer as original works of art in this pre-eminent late 20th early 21st Centuries Medium. Once the 75th painting in each edition is printed, signed, titled, and numbered with Curtis' seal printed on them to distinguish them from pirated prints of inferior quality, all-digital .tif files used to print said series are securely deleted into cyberspace and exist no longer. Only a .jpg and a .psd file are retained for future reference. Each of these works of art is painted at full-scale image size 21" x 16" at 350 ppi resolution. With the title, hand-signed signature, etc. at the bottom and a white one-inch border they measure 24" x 18" or 19" x 23" depending on a vertical or horizontal format. They are each accompanied by a certificate of authenticity. These works are termed paintings because of the intricate use of colors, and technical applications of the colors, the various drawing and painting tools and techniques, linear and textural effects, and blending subtleties applied, and the overall complexity distinguishing these paintings from traditional flat fine art prints. This new ingenious artful late 20th-century medium is cutting-edge with a virtually limitless range of creative possibilities reaching far into the future.
These works are in themselves "Metaphysical Symbols." Form and color are combined, united, and harmonized to create heartfelt impressions of life. The concept of inner radiating light plays an integral role in the development of these images. This light emanates from within a counterpoint of darkness and shadow. In some of these images, the light is radiating from without almost hiding the shadow. In others, the light is hidden within the darkness and is virtually unseen. The light expresses all the positive forces of nature; growth and expansion, the power of intellect, and most importantly, the power of transcendental love. The darkness elicits the dark forces of nature and humankind; anger - resentment - hatred - complacency. Ironically, we cannot have one without the other. The darkness increases the beauty of the light just as evil contrasting benevolence enhances the joy one experiences by doing a good deed. It is an eternal paradox.
Author's Bio:
Artist - Designer - Painter since 1977 - Curtis R Doll Jr began creating stained glass windows in 1979, cutting glass, assembling the windows including installation and various and sundry jobs that go along with making stained glass - began designing monumental architectural glass installations in 1983 for churches, storefronts, malls, etc., and continued to design small, residential & commercial projects - in addition, creating computer graphics, manipulating and restoring photographs - creating digital, limited edition fine art prints since 1998 but his passion continues to be painting abstracts in gouache.