What do you think is the most important skill your guitar students have to learn from you in order to become excellent musicians as fast as possible? Think it's guitar soloing? Maybe it's songwriting? Perhaps it's aural skills? Or is it improvising?
Here is the answer you seek: it's none of the above.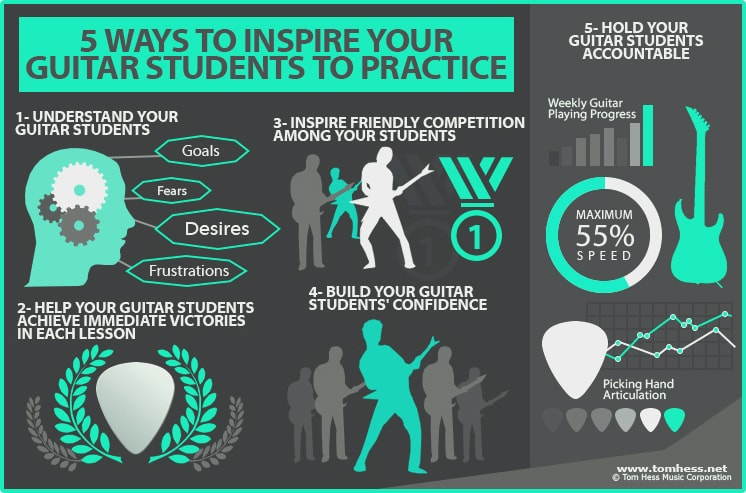 In reality, the most important skill your students need to have to become great is knowing how to practice guitar as effectively as possible.
Your guitar students will NOT transform into awesome guitarists in the short hour they spend together with you during lessons. The true way they become better is by practicing efficiently on their own in between lessons. Fail to get them to do this, and their guitar playing will never really progress, leading them to become frustrated and often quit lessons altogether.
Before checking out the rest of this article, take this 2 minute assessment to see how good you are at teaching your guitar students to practice. Once you've done this, continue reading below to learn the main steps for improving this area of your guitar teaching.
Now check out the five critical keys to motivating your guitar students to practice at home:
#1: Really Get To Know Your Guitar Students
The number one guitar teachers in the world fully know that they don't just teach guitar... they teach people. This means that they have a real passion for the growth of their guitar students, want to know how they think, and want to understand their musical desires, plus why they have them. Every student you will ever have gets inspired from all different kinds of things and possesses unique reasons for wanting to play guitar better. Knowing them will help you meet their needs during lessons.
When your students can plainly see that you really have a passion for getting them to become better at guitar, they will start to trust you more and will become inspired to do their best to advance. This is crucial for getting them to put in their best effort to practice at home.
Your influence will be much stronger once your guitar students can see a correlation between guitar practice and RESULTS. You'll learn more about this idea as you read below.
#2: Inspire Your Students Through Small Victories
Your students must understand how to practice every single thing you teach them. Whenever you teach something new (or that can be integrated with a separate concept), quickly show them how to effectively practice it at home so they can understand the best way to improve on their own.
When you do this, you accomplish the following:
1. Your students feel good about the small victory they have obtained. This will motivate them to practice at home.
2. Your students will understand what it means to practice guitar the right way. When they attempt to practice what you've taught them during a lesson, you can spot their mistakes, fix them and increase the chances of them practicing correctly when they are alone.
A lot of guitar teachers never even do this... they just teach as much new information as they can fit into every lesson and hope the student will retain it. Others believe that merely telling their guitar students what to do is the same things as "teaching them how to practice correctly".
This mistake is very common. Unfortunately, it all-but guarantees that the majority of your students will: make little to no progress at home AND take an extremely long time to reach their goals (if they ever do). However, chances are, they'll quit before ever doing so.
To find out how to solve this problem and get your students to become much better guitar players each lesson, read this article about teaching your guitar students how to practice.
#3: Create A Massive Snowball Effect
In addition to showing your students how to practice the right way, you have to boost their self-confidence. To accomplish this, you must continually get them to understand the clear cause and effect relationship between proper practice and increasing guitar playing skills. When you teach your guitar students how to practice the right way, and give them small victories, remind them:
1. That their guitar practice is really helping them become better players faster.
2. The things you are telling them to practice and methods for doing so are both helping the student to achieve his/her goals.
This continual reminder will gain your student's trust and keep them motivated to practice.
#4: Inspire Your Students To Compete (In A Friendly Way)
Once a student of yours observes the massive progress being made by another student you teach, they will feel a need to prove themselves or push themselves to do better. Take advantage of this natural sense of peer pressure by pushing for a healthy competition amongst your students. Talk to everyone about your very best students and how they became great players so fast... plus how your other students can do the same when they follow the things you say.
The easiest manner for promoting competition amongst your students is avoid teaching only in a one on one format. Instead, use classes to get your students to interact with each other and give them much more motivation for practicing guitar so they can get better.
To better understand how teaching group classes will transform your guitar teaching effectiveness (and income) see this video about growing a highly successful guitar teaching business.
#5: Demonstrate Proof Of Your Student's Results By Continually Measuring Their Progress
It's not uncommon that your students will stop practicing because they aren't sure that they're making progress with your lessons. To fix this issue and motivate them to practice at home, track and measure their results in every area of their guitar playing. Then, remind them ever few lessons about the amount of progress they are making. This is a great way of showing them that their hard work is paying off, leading them to feel motivated to get even better.
HUGE benefit for you: When your students understand that they are progressing with you and feel inspired to practice more, they will also keep taking lessons with you.
To discover the most efficient way to track musical progress for guitarists, check out this tool for getting a lot better at guitar playing.
By applying the 5 critical keys I've discussed in this article, your students will practice more at home and make better progress. Result: you will quickly gain a highly positive reputation for being the best guitar instructor around.
To get help with training your guitar students to practice effectively, complete this free assessment about teaching your guitar students how to practice.