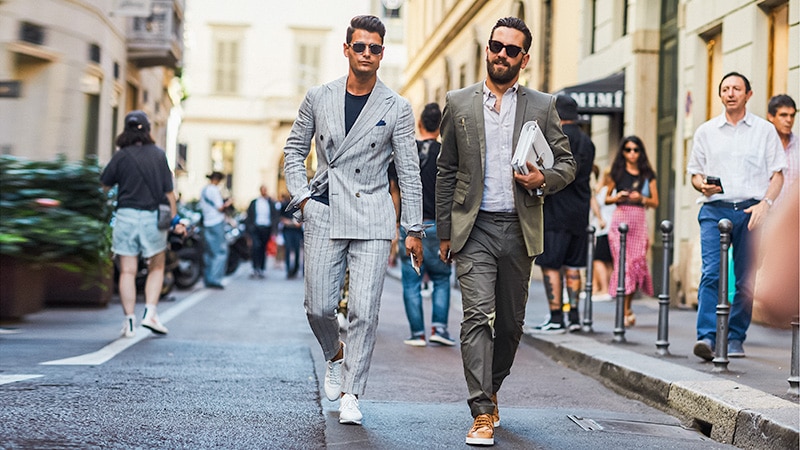 I bet every one of you reading this is following at least a bunch of international celebs on Instagram, be it Beyonce or Chris Evans. In addition to being in touch with the latest news and gossip across borders, you usually start off your day with the ritual of updating yourself about the OOTD (outfit of the day) of your favorite international celebrity. The world of social media has blurred all the boundaries. Different cultures and cultural looks are now accessible to view and recreate thousands of miles away. When keeping up with the fashion trends you can't help but keep a close tab on what is happening at Cannes or Paris Fashion Week. But against your expectations whatever you see on the runway or Instagram may not work in your specific cultural setting. What a bummer!! Let's take a look at a few menswear trends that are all the rage internationally but will probably get you a lot of awkward stares in Pakistan.
Straw Boaters Hats: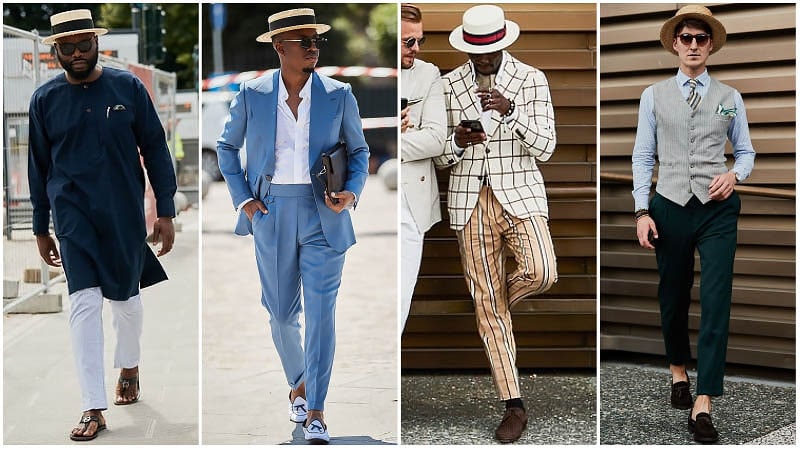 With summers and sunshine come the straw boater hats. They are literally everywhere on Instagram. Every label is advertising them as an essential part of their summer accessories. Every blogger, influence, and celebrity has a photo of him vacationing somewhere around the Pacific with a tropical all-over printed shirt and a gigantic straw hat! No doubt it looks trendy and funky, but although temperatures are much higher and the sun is much harsher in Pakistan you cannot dare to follow the trend. Especially if you are a self-conscious person and do not want to attract a lot of attention towards yourself. I am afraid you will have to settle for a P-Cap unless you are on the French beach.
Flared Pants:
International trends keep floating back and forth, you will often see the 70's and 90's trends back on the runway and streets. As much as they look effortlessly trendy flared pants from the '70s just won't do in Pakistan. First of all, Pakistani society has been ignoring men's fashion trends for quite long. Anything out of ordinary in menswear is just too risky to be worn on a daily basis. So flared pants may look great on Justin Bieber but you will have to settle for your slim fits, sadly! Secondly, even if you dare to wear flared pants in Pakistan and walk around the streets, trust me, they will get too muddy to be washed clean and worn again. So even if fashion trends of Pakistan do allow flared pants for men the cleaning situation does not!
Oversized Blazer:
The trend of oversized blazers transitioned easily and worked exceptionally well for women in Pakistan, but for menswear, it just didn't! Ideal suiting for men is always imagined to be slim fit and tailored to perfection. Anything as baggy as oversized blazer will be considered as a wrongfully tailored item. You think you could quickly order a polo t-shirt online and slip it under your blazer, but no, to say the least you could be a laughing stock in your social circle. Surprisingly on the Pakistani fashion radar, nothing is too tight but an oversized blazer is a big no-no in menswear. So as effortless as it may seem on the Insta feed, carrying an oversized blazer will take a whole lot of courage for you!
Narrow Shades:
In terms of eyewear, international trends have moved from oversized squares to narrow shades, however, Pakistani fashion file is stuck on the page of aviators. Leading international clothing brands are labeling narrow shades as the hottest trends to follow this summer. But that's not true locally; in fact, it will be very hard to find anything of the sorts in the market here. So even if you think you can pull off narrow shades it will be one heck of a job to find a decent pair around.
Cross-Body Bags:
The men's accessory departments have flourished exponentially in the international market. From everyday essentials to vacation wear, everything has been revolutionized. However, in Pakistan, the only thing men carry on themselves is attitude and a twofold wallet! That's the only accessory they have ever owned. So when you see a man carrying a cross body fanny pack, do not let your jaw drop to the floor in awe. It does look very up to date and trendy but if you are going to follow this trend in Pakistan, prepare yourself for the unwanted stares.
A difference in cultural practices, rationale, and mindset can actually have quite a devastating impact on your wardrobe. Do not follow everything that you see on social media. However, if you aspire to be the trendsetter in Pakistan, you have my blessings. It sure does require a lot of courage and patience but it is not impossible for sure!
Author's Bio:
Bushra Malik is an anthropologist and sociologist by profession who is passionate about her work as a writer, speaker, and blogger. She writes on a variety of topics including, but not limited to, marketing, culture, fashion, and interior designing.