Those who are fans of soccer and want to polish up their possessions and touches; there's good news for them. There's no need to expense a fortune on coaching or spending on costly football training equipment. With that; one doesn't need to spend hours and hours on training; just to build their self-esteem.
Instead of all this; all one needs is a quality soccer training ball: football-on-a-string! These training balls are great for those who haven't perfected their skills. If anything; it will become their best friend in training.
Digging Deeper About Football-On-A-String
The unique thing about such training balls is they are attached to a string and no matter how hard you kick; it comes back to you. One can place the band on the same side of the wrist that they intend to kick the ball.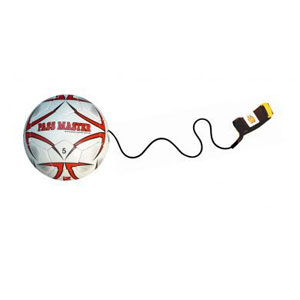 Like for instance; one should wear the wrist on the left side if they intend to kick the ball from their left foot, and vice-versa!
One can play with it at home without the fear of losing the ball.
As the ball is easy to control, one can kick, dribble and perfect their soccer skills as long as they want without letting the ball escape down the road.
Playing with a soccer practice ball helps improve hand-eye coordination, confidence and also uplifts self-esteem.
Some Un-doubtable Perks of Soccer Training Balls:
Playing with this soccer training ball will increase their control over the ball, and that will lead to increased confidence.
Ball control is perfected, and so does your reaction time and body movements.
One's tricks and skills also escalate, and that brings out a quicker response time when playing the game.
Players just need to keep one thing in mind, and that is being dedicated to perfecting their skill level. They need to practice regularly with it and in time; the difference in the skill level will definitely be noticed.
Where To Purchase Your Soccer Training Ball From?
i. The site should have a good collection of kids football training equipment, particularly soccer training balls attachable to the wrist via a string.
With that, the site should have properly written descriptions about each of the products; so that customers can get a clear picture of the product they are buying.
ii. One should also check how their clients think about their products. One will get a clearer picture of whether they lived up to their client's expectations or not.
iii. One should also check the offered price and compare it with some other suppliers to check if the rates adhere to industry-standard rates or not.
iv. Lastly, one should also check their shipment rules and return policies, in case some damage was seen in the product.
Use these details to find your reliable supplier and make this daunting task, an easy one! So the moral of the story is rather than spending too much on a soccer skills trainer in Australia; spend wisely on a soccer practice ball.
It Will Be Worth It!
Author's Bio:
The author works as a soccer skills trainer in Australia for many years and regularly uses kids football training equipment, particularly soccer training balls to improve the football skills of students. The author is also a writer and posts regularly about how these practice balls benefit students.