When it comes to exterior house trends and colours, they keep changing from time to time. It is why homeowners looking for a beautiful property makeover should keep their fingers on those exterior colours and trends that are in-vogue!
To help you, the post covers some of those latest trends and colours that you should consider to increase the property's resale value.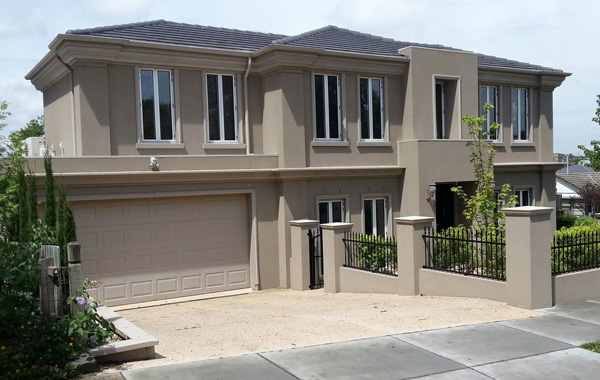 1. Adding More Customised Landscaping Features
Australian people love outdoor living spaces, and this is one trend that will continue throughout 2019. Many ongoing properties are seen incorporating bold features to their outdoor space to increase the aesthetic appeal.
With that, unique, hand-crafted items will also include in the outdoor space instead of mass-produced items to boost its charm and appeal.
2. Believing in the 'LESS is MORE' Approach
'Less is More' is one trend that will stay throughout the year. Most designers will adopt a simplistic approach for house exteriors. They will replace flamboyance with less complex and minimalistic hardware to go with their rendering treatment.
Construction materials will be of high-end products (be it wood, iron, steel or metals), energy-efficient glasses and darker colour elements to present it a cleaner appearance.
However; you can customise each of these elements and use it to achieve your specific requirement. Do consult with your chosen rendering specialist serving the Sunshine Coast about the scope of the project and which coat will be suited as per those building components. Also, be open to accepting suggestions from their end to ensure the project is completed in the best possible manner.
3. More Demand For Rendering Treatments
Front house rendering is one good option to present your house a nice refreshing appearance. With that, it also lends your house, the perfect insulation to keep all the heat out and prevent weathering wear and tear.
Considering how popular Acrylic, Cement, Polymer and Hebel rendering treatments are for both domestic and commercial properties, the demand for each of them will only double in 2019.
4. Opting For More Energy Efficiency Roofing
The buzzword for 2019 will be energy efficiency. And keeping true to this trend, most homeowners, looking for a facelift will attempt to keep their homes as energy-efficient as possible. They aim to bring down the monthly house bill and cost of utility bills following these latest design trends.
Homeowners and even commercial real estate owners look forward to using solar-reflective asphalt shingles with the use of rendering experts in North Brisbane to make those roofs more energy efficient.
Alternatively, placing solar panels on roofs is another quality option to help homeowners achieve more energy efficiency this year.
To figure out the right option for your property, the wise choice would be to speak to your chosen renderer beforehand. Depending on your budget and scope, they will help you pick the right roof rendering option.
5. In-Vogue Colour Trends
Though dynamic palette or vibrant colour hues and unexpected pops still occupy a place in the spotlight, 2019 will belong to more 'Classic Grey', 'Pastel Greens' and even 'Beiges'.
Traditional style White & Black- which is another popular combination that's could either make or break the visual aesthetics of the modern rendered house. So keep these in mind and pick your colour carefully for the rendering treatment.
Final Words:
These are some of those popular trends and colour options for house exteriors which will make a noticeable impact. To ensure that your project is completed as per all these latest trends, be sure to contact trustworthy rendering specialists in Brisbane and request for their service quote.
Author's Bio:
The author is a rendering specialist serving the Sunshine Coast for years. And having wide knowledge about this industry, the author also knows about top-rated rendering experts in North Brisbane.