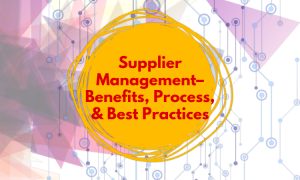 Supplier Performance Management (SPM) is the business practice used by companies to measure, analyze, and manage your supplier's performance. The right supplier performance management is supposed to cut costs, mitigate risks, and point out any company structure inefficiencies. Experts believe that proper supplier performance management is crucial to the success of any business.
The best way to do this is by integrating a Supplier Performance Management software. While it is a considerable investment, tons of businesses benefit from having proper supplier performance management.
If you're thinking of bringing your business to the next level, then read ahead.
Benefits of Supplier Performance Management Software
Improve Brand Reputation
For a small to medium enterprise, reputation is everything. If you want to gain more customers, you need to make sure that everyone knows you can deliver. Small disruptions in your supply chain could delay your time of delivery, which affects your customer experience. A software keeps track of everything and makes sure you always get a 5-star rating.
Cost-Cutting
Supplier management software helps users cut their unnecessary expenses. Scheduling with your vendors on the best time to make a purchase helps companies with seasonal discounts.
Risk Mitigation
The problem with having third-party vendors is that a small disruption can affect your entire supply chain. It's incredibly challenging to put measures in place to prevent interruptions and reduce the incidence of risk exposure. A supplier performance management software provides a full visual of all of the risks a supplier may pose. Simply put, business owners help you make smart decisions.
Identify Weak Points
The ultimate goal for integrating a Supplier Performance Management software is to help business owners identify any inefficiencies and weak points in the company's operations. SPMs provide valuable insights that could help you see any departments that have room for improvement.
Hiring a data analyst with excellent analytical skills will make this step easier. Companies deal with big data on a regular basis. Don't let this go to waste. You can transform your data into valuable insights for better management.
Best Practices for Supplier Performance Management
Build KPIs around Business Goals
When setting up your performance metrics and KPIs, you want to keep in mind your company mission and vision. Align the Key Performance Indicators of your supplier performance management software with your goals. The scorecards will help you identify which suppliers help you move forward with your journey towards success.
When setting up your performance tracker, you need to list all of the goals you want to achieve. This way, you know which supplier to favour. Establishing an exact list of supplier performance expectations is the first step to a successful performance management program.
Adjust Business Processes
Once you have built the right metrics into your scorecards, you need to establish a clear succession of standard operating procedures that align with the performance metrics you set. For instance, it's not right to expect your suppliers to deliver on the dot all the time when the bottlenecks are on your end. Adjust your business processes so that your existing suppliers can perform adequately.
Full Transparency
You've built the scorecards, set the KPIs, and performances are measured. The next thing you should do is to share all of this data and information with your suppliers. Inform them that you're monitoring their performance. You must share the results of your regular evaluations with them for your suppliers to take the right action.
By being transparent with your performance metrics, suppliers can act accordingly. You don't want to be unprofessional and cut business with a supplier who didn't know what they were doing wrong. You must share with your suppliers all of their scorecard results.
Keep communication lines with your suppliers open to strengthen your relationship. Business deals start to fall off the moment one party stops communicating. Re-negotiations and contract extensions become a heavy burden on the performance manager's side as there's nothing to leverage for.
A performance manager can't keep up with all of these data, but a supplier performance management software can. It is a natural trend of businesses to automate their operations as it becomes more and more tedious for the current workforce to handle.
Author's Bio:
I am an author of selfgrowth