Bathroom renovation projects can be exciting simply because you can experiment with different designs and installations. But it also needs appropriate planning, practicality and forethought.
You also need to be wary of some remodelling mistakes which many homeowners commit frequently. To give you a better idea below explains those 5 mistakes commonly seen in a bathroom remodelling project.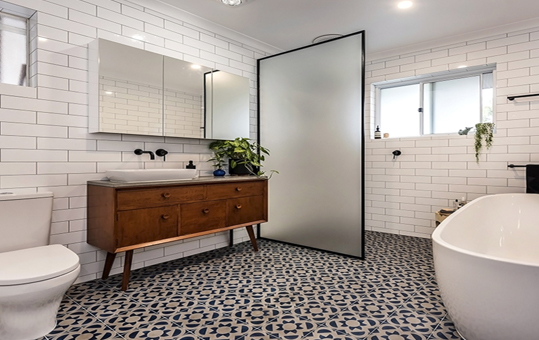 Not Sticking To One Theme
One can easily get overwhelmed by the vast number of options when planning a bathroom remodelling. From stand-up showers, copper tubs, vanities, rustic chic, pedestal sinks to a minimalistic design, there are lots of possibilities to try and experiment.
So, it is important that you take time with your trusted quality bathroom remodelling experts 'near me' and pick one central theme suiting the available space. Many homeowners try and experiment too much and end up with a hodgepodge of themes.
Don't make that mistake. Discuss with your renovation specialist and come up with a design which helps you narrow down the remaining decorative elements.
Treating Wall Colour as a Last-Minute Decision
Treating wall colour as a last-minute decision is another mistake to avoid. You should sit down and decide which colour you want to paint your bathroom walls before the start of the project just like when deciding tubs, sinks, shower and other decorative elements beforehand.
Pick a colour which seamlessly blends with the walls, floor, and right down to the sink fixtures. Also, buy elements which correspond to the primary choice of colour. This will prevent you from revisiting decorations repeatedly and help save your money and time in the process.
Wrongly Deciding What Works Best For Your Bathroom Space
While it's never a crime to dream of a freestanding bathtub with a shower area, the reality of it is not every bathroom space can incorporate such elements.
So, speak to your bathroom refurbishment specialist serving in London about what works best as per the available space and focus on that. Or else, you may end up with a cluttered bathroom.
Not Spending On the Elements That Matter
If you have a fixed budget which you can't afford to exceed, then look to spend it on elements which matter. There is absolutely no point investing in a copper tub when cannot bear to add in a fan which helps eradicate moisture and avert mould growth on the walls.
So, don't skimp out on the important elements. Instead pay more attention to them. Still, if you wish for some luxury additions, you can think about them in the end.
Doing the Renovation in a Rush
This is perhaps the biggest mistake homeowners commit in their customised bathroom renovation. A proper bathroom remodelling takes 5-7 weeks to complete (although this can vary as per the available space and existing design).
Rushing the renovation will only bring about more complications down the line. So have patience and allow your hired specialists in bathroom renovations in London enough time to handle every aspect be it- tub installation, plumbing, flooring, electrical, or any other!
Surmising:
Remodelling a bathroom should be considered like a marathon rather than a sprint. It is true that it will take time to complete, but the wait will be worth every GBP you invest.
Whenever you start off your next bathroom remodelling project, be sure to avoid these common mistakes. Also, look to hire revered bathroom restoration experts in London having plenty of field experience for your peace of mind.
Author's Bio:
The author runs a company consisting of a diligent team specialising in a wide variety of bathroom renovations in London within every client's time and budget. In addition, the author also informs homeowners about various bathroom refurbishment trends popular in London suited to various budgets.